Greetings, ladies and gentlemen (and scoundrels). For those of you who can understand French, German or Dutch, and have a soft spot for either fairy tales, beautiful artworks or graphic novels, there's a series I must recommend.
Warning : Keep in mind my tags. However beautiful and smart, this graphic novel is definitely not suitable for everyone, especially not children. Warning for explicit sexual content, explicit violence, rape, murder...
Who is the monster, and who is the man ?
***
Everything starts with a wedding. Or I could be accurate, and say that actually, everything starts with a war. Humans and Beasts have been opposed in a barbaric feud for an immemorial time. To put an end to its disasters, fair Aube is promised to Loup De Feu (Wolf Of Fire) to seal the truce between her father, Seigneur Maitre d'Arcan, and the powerful Beast leader, Loup De Traille (father of Loup De Feu). Only treason strikes, the celebrative night goes terribly wrong, and Aube must flee for sanctuary to the Bois des Vierges (Virgins' Woods) to avoid death for her crime.
This is a story of loss, of love, of grief, and consuming hate. This is a story about accepting yourself in order to accept the other.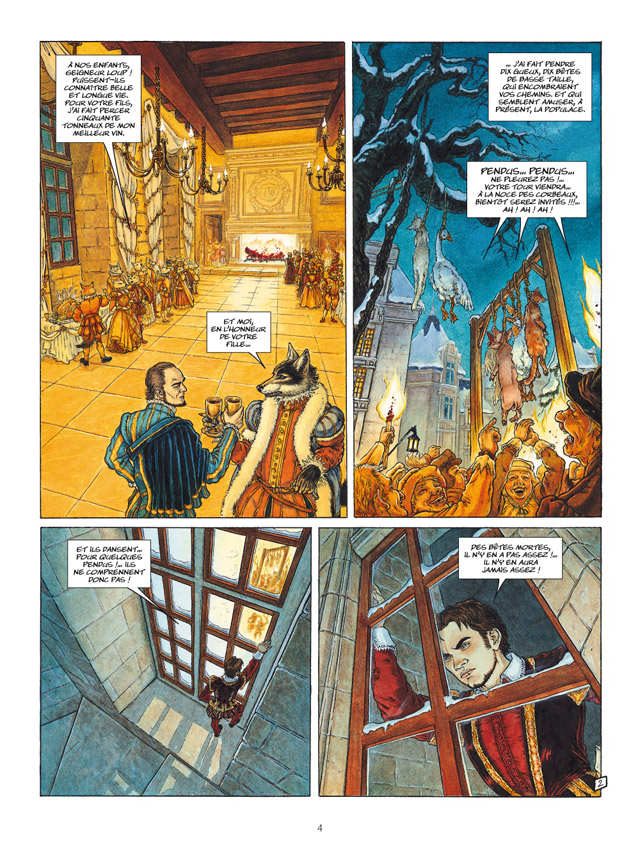 The original plates are hand-drawn and painted. Béatrice Tillier's colours set each mood nicely.